Solution:
To launch the scanner on a computer you need to insert a driver or enter the folder in which audit files were saved. Next, you need to launch .exe program (version 32/64 bit – according to your system's settings) . 
The scanner will read information regarding the computer's name, operating system and currently logged user.
The option Do not allows scanning abort will disable the user to abort the scan procedure (Abort button will be inactive)
By default (option Standard checked), files, Windows registry, product keys and icons will be scanned. The localization of the scanner will be omitted. Only *.exe files will be scanned and only such folders will be taken into account: Program Files, Program Files x86, Common Program Files, Common Program Files x86.
Unchecking Standard option will activate Alternative button which enables you to choose different scan options.
To proceed with the scan, click Start. The scanner window will now inform you about the scan's progression.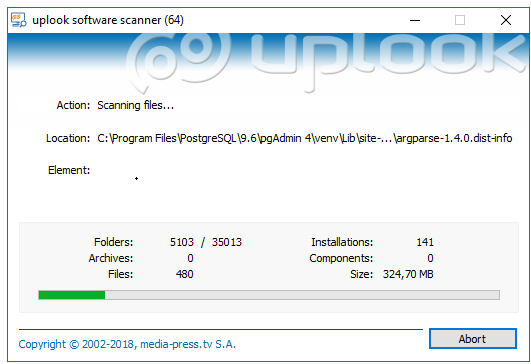 The scanning process will read data dependently on its settings; regarding OS, installed applications which left logs in the registry and detailed data of all executive files found on local discs. Also, information regarding other types of files will be read – if appropriate masks are defined.
If scan was performed successfull\y, such notification will be displayed: . 
If the scan was completed, the folder that was a scanner localization will now contain a file with its results. The name is composed of audited computer's ID and ufs extention, e.g. KAROL-17FE957A5FBF4B4D88F48C84BAB6402E-20090114-134837.ufs. Obviously one scanner may perform multiple scans – if the driver that contains the folder has enough space to save the results.